Special Education is not a field for the faint of heart—it requires education and training, patience, and a passion for helping students succeed in difficult situations, and our TEAM here in GARRARD is the most extraordinary TEAM in the state!
Special education is rewarding. Every day, you get to see your impact on your students, big or small. There are no words to describe the feeling you feel when your student with autism who avoids physical contact, touches your shoulder affectionately. Or, when your student who has a learning disability and has been many grade levels below their grade in reading or math levels finally makes it close to their goal. Or, when your student who uses an augmentative speech device spells out their first full sentence to express themselves.
Kudos to our districtwide TEAM for all their efforts in promoting student success through such magnificent dedication. Today, we celebrate those nominated by their peers who have shown exceptional heart in advocating for their students and supporting them in achieving their goals. These professionals are well deserving of our fall 2021 Garrard Exceptional Childhood Educator Knock-Out award!
1. Shauna Howard, Special Education Teacher at Garrard Middle School and Garrard County High School:
Shauna is a true collaborator.. She currently splits her time as a Special Education Teacher between GCHS and GMS and she gives 100% every single day. Ms. Howard is always willing to go above and beyond to assist her students, share resources, provide support tools, encourage her co-workers, and is always willing to lend an ear. Her down to earth nature makes it easy for her to connect to students and families, and faculty/staff. Shauna is also our district Safe Crisis Management Coach where she attends trainings and trains faculty/staff across the district throughout the year. Shauna's increasing knowledge of evidence-based, proactive, positive behavior approaches and strategies has led her to share support tools across the district. Shauna is a true team player in every sense of the word!
2. Jon Smith, Special Education Teacher, Garrard Middle School:
Jon believes that relationships are vital in supporting student success. Mr. Smith spends time getting to know his students, developing rapport, and understanding who they are so he can then determine how to best to instruct them. Jon is always willing to brainstorm with co-workers about strategies for student success and is the first person to remind you to take care of yourself, so you, as an educator, can continue to give your best to your students. If you ask him what the most important student support tool is, he will say " Developing relationships with your students has important, positive and long-lasting implications for both students' academic and social development. Strong teacher/student relationships lead to student success!" Lastly, Jon is also one of our district Safe Crisis Management Coaches where he attends trainings and trains faculty/staff across the district throughout the year.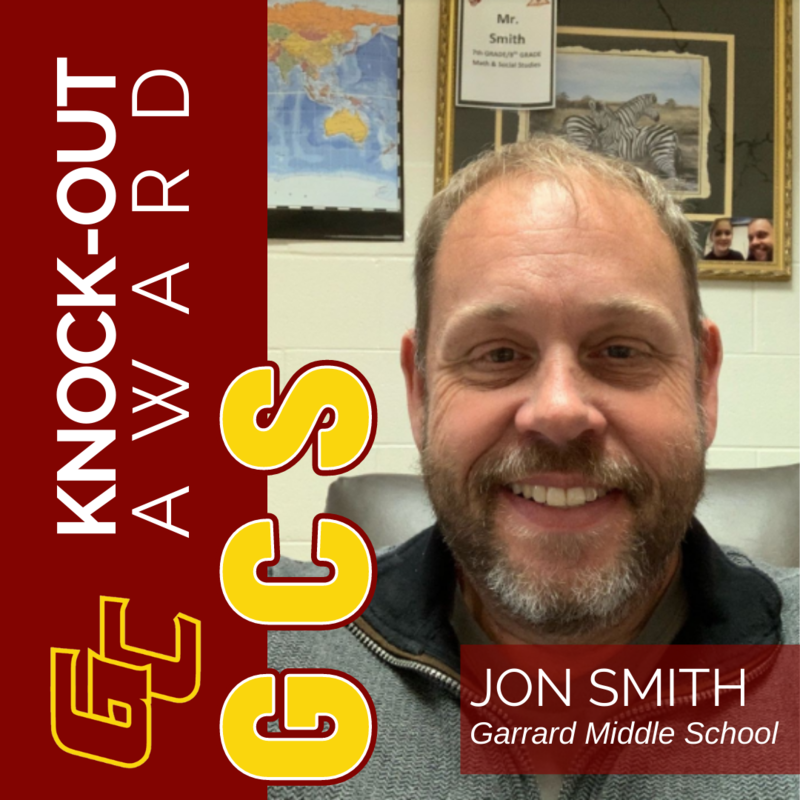 3. Denise Calvert, Paraeducator, Lancaster Elementary:
Denise Calvert is a paraprofessional at LES and she is AMAZING! Denise missed her calling; she would have been a GREAT Special Education Teacher! Some of Denise's responsibilities include: retrieving progress monitoring data, supporting students in the general and/or special education settings, making learning FUN!, individualizing instruction and supports, setting high student expectations, and always going above and beyond the call of duty by diving into whatever is needed from her without reservation. As one teacher stated, "Denise never sits and is always busy helping students and teachers." Denise is a true team player and a valuable asset to the LES family!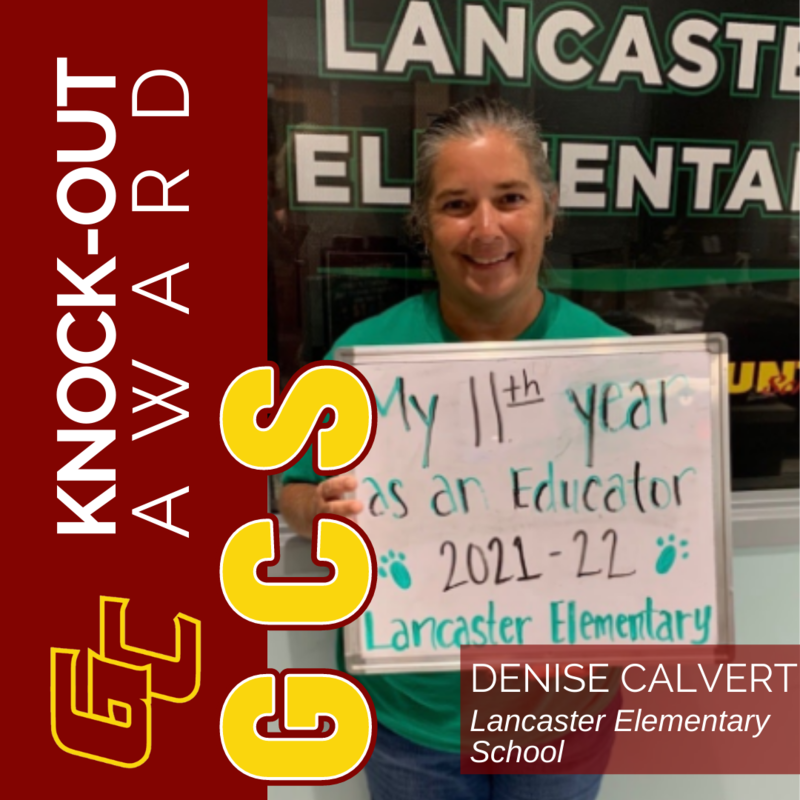 4. Susan Castle, District Physical Therapist:
School-based physical therapists (PT) are part of a team of related service providers who support a student's ability to access his/her educational environment. As specialists in movement, they assist a student's physical participation in a variety of settings throughout the school day. Susan's primary role is to help students benefit from their educational program within the educational environment. Susan Castle is an expert at modifying her students' environments to maximize participation, alter expectations to maximize success and independence, and educate staff to enhance physical participation. Susan has responsibilities that go beyond evaluation and provision of PT services. Susan participates in various school teams such as the assistive technology team, the Response to Intervention (RtI) team, the preschool and special education assessment teams, and is a crucial asset to our district, and collaborates and consults with faculty/staff and parents. Susan believes that team effort leads to success and interventions are made meaningful by performing them where the activities naturally occur, which is why she is top notch!
5. Dana Boyle, District Occupational Therapist:
If you have ever wondered what makes a great Occupational Therapist, just come watch Dana Boyle do her job because she is the absolute definition of an outstanding OT. Dana is creative, patient, compassionate, kind, competent, adaptable, optimistic, and determined. She makes her students' lives better. She is committed to, and passionate about helping her students and motivating them to keep pushing through their obstacles, even when it's tough. A good OT can help people, but a great OT can change a life! Thank you, Dana, for being a part of our district team!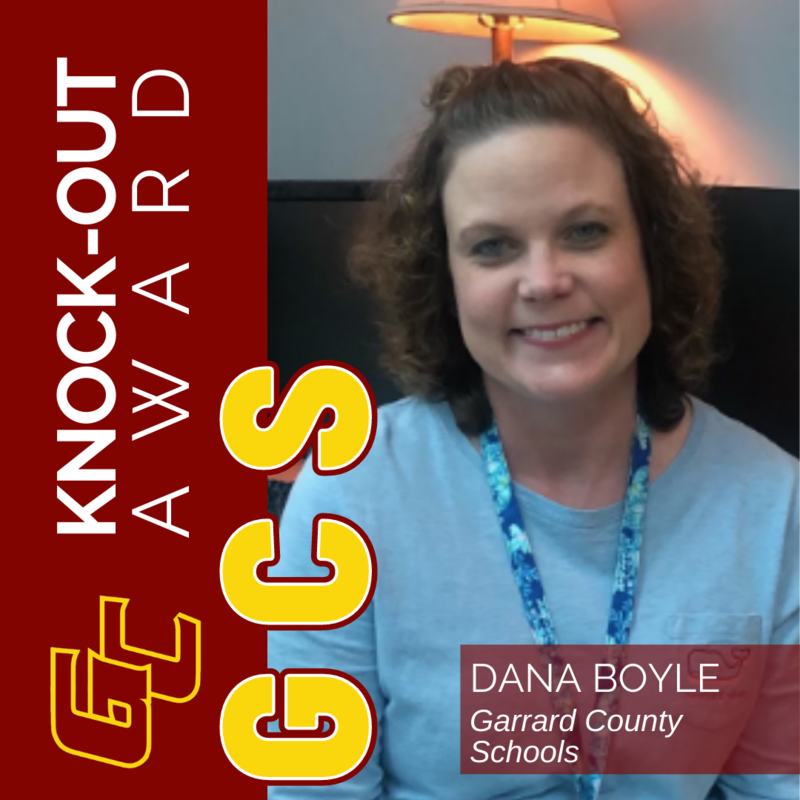 6. Lisa Fugate and Vanessa May, Speech/Language Pathologists, Lancaster Elementary:
Collaboration involves problem solving and mutual goal setting from multiple perspectives that are relevant to an individual's needs. Lisa and Vanessa are amazing collaborators and service providers because they are passionate about their career and have formed an impressive collaborative SLP TEAM at LES! Although Vanessa also works at the middle and high school levels, her base is LES and she and Lisa have developed a multitude of collaborative approaches between the two of them, faculty/staff, parents and students. They exude patience and empathy with their students every day, and have a strong desire to help their students succeed. Vanessa and Lisa identify what wills their students to improve and incorporate that inspiration into their treatment. Their instruction is of high quality, engaging, and FUN!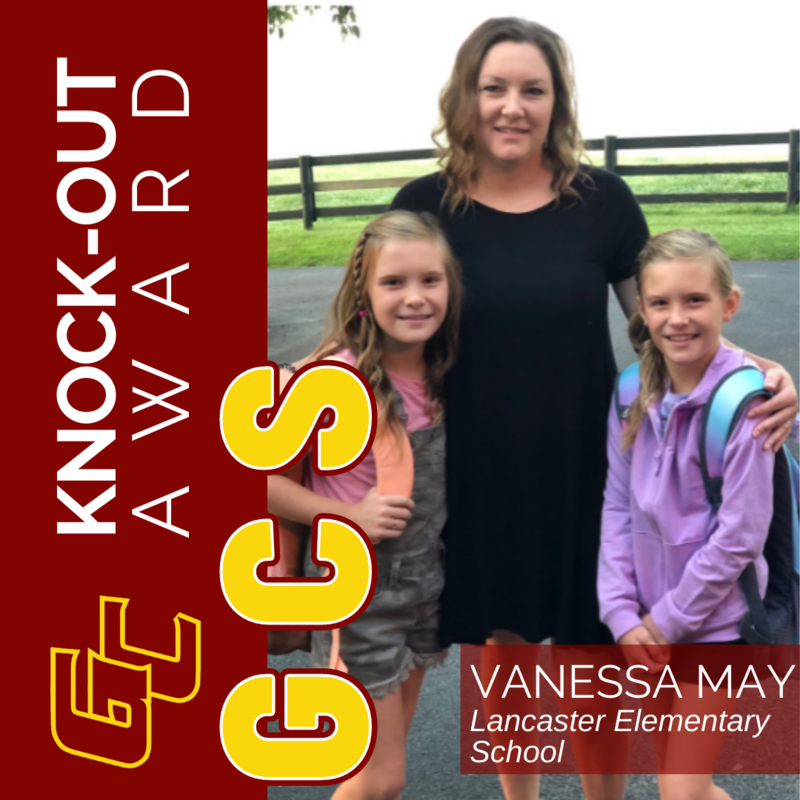 7. Janet Edgington, Paraeducator, GCHS and LES:
Question: Why does Janet Edgington deserve a Knock-Out Award? Answer: Because she is just an OUTSTANDING human being! Janet has a wealth of knowledge she never minds sharing, a heart of gold, passion for her students, and the friendliest, most welcoming personality! She always gives 110% before, during and after school, and will go above and beyond to ensure student success. Janet is big on inclusion and supports students in gaining the skills and strategies needed to access and perform in the general education classroom with their peers. She is an advocate for good communication systems so students always have a voice, and promotes community based instruction through virtual and in-person means and in a variety of creative ways. Mrs. Edgington makes learning FUN!