Shiloh Stanley, Paint Lick Elementary Moderate to Severe Disabilities Teacher, was named Special Education Teacher of the Year by the Kentucky Council for Exceptional Children.
"What makes a good teacher great? A Great teacher loves to teach and loves to learn and that describes Mrs. Shiloh Stanley. Shiloh's work capacity is unlimited. She is enthusiastic, a superb leader in her school and district, an engaging trainer, successful mentor, and prides herself on building relationships with her students, families and colleagues. Shiloh is Garrard County School district's diamond in the rough," says Director of Special Education, Mrs. Wendy Congleton.
Now in her fourth year of teaching at Paint Lick Elementary, Mrs. Stanley emphasizes the idea that all students should feel safe, have the freedom to be themselves and express themselves, and have an opportunity to find their voice (whatever that may look like for them). She believes all students should have high expectations set for them and teachers should presume competence regardless of whatever disabilities the student may have. Mrs. Stanley says, "I truly believe that ALL students have the ability to learn and succeed."

Shiloh Stanley was born and raised in California, where she also completed her education (Masters of Arts in Disability Studies). She began her career working with a company that provided support to adults with disabilities in their homes, in group homes, and in day programs throughout the community. It was with that job she found her passion for working with behavior disorders. Soon after finding that passion, she accepted a position with a school district as the Job Coach/Transition Specialist for students in the life skills/MSD program. Mrs. Stanley fell in love with the education aspect of the job, and decided to return to school for her teaching certificate. After working in a California high school for a few years, Shiloh and her family decided to move across the country to Kentucky to be closer to family.
During Mrs. Stanley's four years at Paint Lick Elementary, she has developed relationships with the students, the parents/families and the staff and fostered those relationships with the kindest heart. PLE Principal, Mrs. Kia Lamb says, "Shiloh is the type of teacher that every principal loves to have in their building. She is such a positive light for her students and for our whole school community. Shiloh works to make sure that every student's needs are met and is the first one to jump in and figure out what we can do to best support our unique learners. Shiloh comes to work every day with a big smile on her face and a positive attitude and is always willing to tackle anything that is thrown her way. As a principal I am extremely blessed to have Shiloh Stanley as a part of the Paint Lick Elementary family."
Mrs. Stanley was one of three finalists for the Kentucky Council for Exceptional Children Special Education Teacher of the Year. Mrs. Stanley participated in interviews and classroom observations with the CEC committee. On November 21st 2022, at the CEC Conference, Shiloh Stanley was named the 2022-23 Teacher of the Year. Garrard County Schools would like to congratulate her on her exceptional achievement.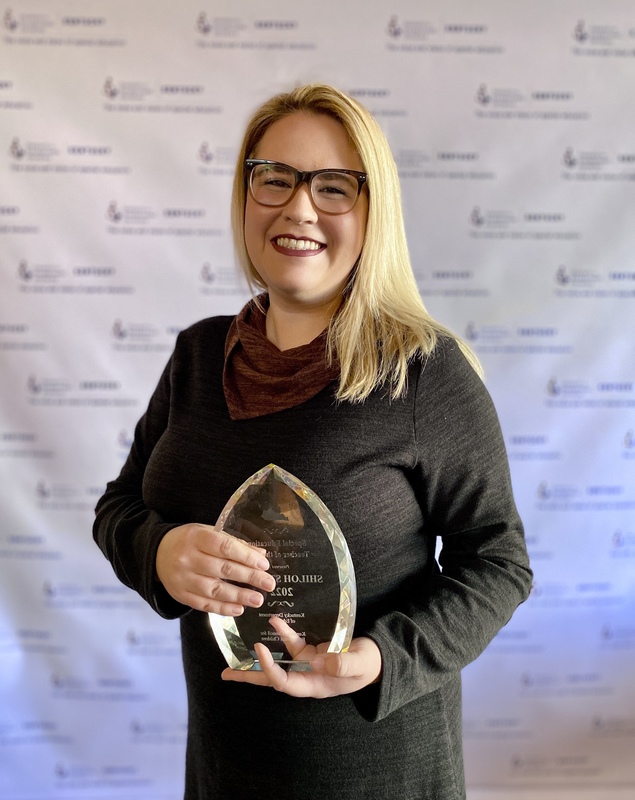 Click here to learn more about Mrs. Stanley.